OBJECTIVES
FCAW is the second largest welding process used by industries for its ability to produce economical and acceptable quality of weld deposit with greater output compared to conventional SMAW and GMAW process.
Flux-cored arc welding is normally performed with a CO2 shield to protect the weld pool from atmospheric attack, thus it becomes a Gas-Shielded Process.
GENERAL OVERVIEW
Fundamentals Practical Applications and Best Practices . This course is designed to answer these and other basic questions so that students can go back to their work place and immediately improve the quality of their welds.
SUITABLE FOR
Welders with 1 year welding experience
PROGRAMME OUTLINE
Safety essentials in welding
Familiarization with FCAW process
Different modes of metal transfer
Maintenance of welding equipment.
Welding defects and solution
Welding procedure and selection of welding alloys.
Welding Procedure specification (WPS ).
100 % HRDF CLAIMABLE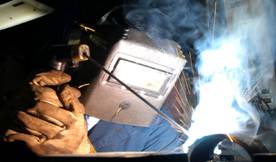 PRACTICAL
Techniques in Welding
Butt Joint
Lap Joint
Fillet
Complete joint penetration
Partial joint penetration
Welding position Flat & Horizontal / Vertical
Practice in welding for 3G position.
Preparation of weld joints.
Flat fillet flat butt, horizontal butt (3G )
Certification will be conducted in accordance to an appropriate code AWS D1.1 ASME IX, BSEN 287 etc. Certifying body SIRIM QAS / AWS / ABS
DURATION
5 Days / 35 Hours
CERTIFICATION WILL BE CONDUCTED IN ACCORDANCE TO AN APPROPRIATE CODE AS PER:
AWS D 1.1, ASME IX, BSEN 287 etc
INTERNATIONAL CERTIFICATION BODY