OBJECTIVES
The course is carefully designed to offer necessary theoretical and practical exposure to Shielded Metal Arc Welding process. The lessons are planned to enable the participants to easily graduate to a confident 3G SMAW welder. Certificate will be awarded to the welder after witnessing & evaluation of Qualification test coupon prepared as per the requirement of AWS D1.1, ASME IX, BSEN 287, DIN etc...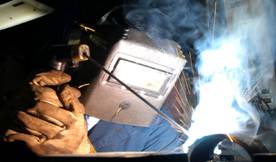 GENERAL OVERVIEW

Fundamentals Practical Applications and Best Practices . This course is designed to answer these and other basic questions so that students can go back to their work place and immediately improve the quality of their welds
PREREQUISITE
Welders with 1 year welding experience
PROGRAMME OUTLINE
The hazards associated with welding and how to prevent injury to self or others.

Introduction and principle of SMAW

Basic welding principle.

Maintenance of welding equipment.

Welding defects and solution

Proper metal filler selection for all applications

Records to keep for maintaining efficiency & reducing cost.

Welding Procedure specification(WPS)
PROGRAMME OUTLINE
Welding Techniques
Preparation of weld joints.
Cutting Processes
Practice welding in Flat fillet (3F), flat butt, horizontal butt (2G ) with rutile E6013 and low hydrogen electrode E7018 for low and medium carbon materials
Practice welding for 3G position.
Final qualification in 3G position.